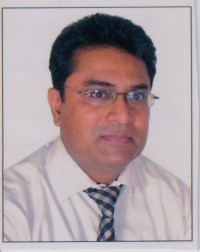 Dr. Ashit Sharma
MBBS MS - General Surgery
Surgeon
Lifeaid Medical centre, 1097, Sec-40, Gurgaon Map
Ashit Sharma is Top Surgeon in Sector - 40, Gurgaon. Ashit Sharma practices at Lifeaid Medical centre, 1097, Sec-40, Gurgaon . Ashit Sharma is MBBS MS - General Surgery. You can Book Online Appointment, Consult with Ashit Sharma on www.365doctor.in.
Find Contact no/phone number, Ask Question, Find & write Ashit Sharma Reviews, Qualification, Ashit Sharma fees on www.365doctor.in.
Dr Ashit Sharma Dr. Ashit Sharma is an accomplished Laparoscopic and General surgeon with expertise in all kinds of routine and complicated surgeries. He has an extensive experience of 20 years, and is one of the best laparoscopic surgeons available in New Gurgaon. Dr Sharma did his medical graduation from Ganesh Shankar Vidyarthi Memorial Medical College (GSVM), and completed a Masters in Surgery from the same institute in 1993. He underwent extensive Laparoscopic and Laser Surgery Training under the guidance of Dr Mohan Chellapa at Singapore, and also earned a fellowship from the esteemed Indian Association of Gastrointestinal Endoscopic Surgeons. He is a member of many National and International Medical Organizations of repute, and takes keen interest in upgrading and refreshing his medical knowledge. He firmly believes in the power of work, and strives to provide his patients with the best quality of treatment possible. He has worked with the premier medical institutes like Batra Hospital & Medical Research Centre, New Delhi, and also with Dr Ram Manohar Lohia Hospital, New Delhi.Dr Sharma has expertise in minimally invasive surgeries, single incision surgeries, gall bladder stone removal (Cholecystectomy), removal of appendix (Appendicectomy), removal of ovarian cyst (oophorectomy), GI surgeries surgery, hernia surgery, and splenectomy, etc He is currently heading the Department of General & Laparoscopic Surgery at Lifeaid Medical Centre, Gurgaon, India. This location is very well accessible and connected by the common modes of transport.
Map
Find More Nearby Surgeon
Surgeon Covers
Angiography
Angioplasty
Bariatric Surgery
Cardiac Surgery
Cardiovascular System
Cosmetic Surgery
Laproscopic Surgery
Weight Loss Surgery
Find More Surgeon in Area
Surgeon in Cities
Popular Post