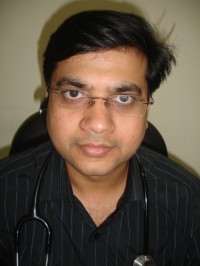 Dr. Vikas Jain
MBBS MD - General Medicine
Consultant Physician
Jain Polyclinic, 18, Shyam Enclave, East delhi Map
Vikas Jain is Top Consultant Physician in East Delhi, Delhi. Vikas Jain practices at Jain Polyclinic, 18, Shyam Enclave, East delhi . Vikas Jain is MBBS MD - General Medicine. You can Book Online Appointment, Consult with Vikas Jain on www.365doctor.in.
Find Contact no/phone number, Ask Question, Find & write Vikas Jain Reviews, Qualification, Vikas Jain fees on www.365doctor.in.
Dr Vikas Jain is a compassionate healthcare professional who has been practicing for more than a decade at Jain Polyclinic and Arogya Clinic, Delhi. Alternately, he serves patients at White House Hospital, Delhi. He is a consultant physician with core knowledge on various aspects of health problems. Dr Jain strives to give best possible treatment and aftercare to every patient. His objective is to make best use of his education in order to successfully treat patients. In 1999, he completed MBBS from highly regarded Chhatrapati Shahuji Maharaj Medical University, Lucknow. Right after completing his graduation he went to Maharani Laxmi Bai Medical College, Jhansi to pursue the Masters Degree.
Map
Find More Nearby Consultant Physician
Consultant Physician Covers
Cold and Cough
Dengue
Diarrhea
Fever
Pneumonia
Typhoid
Find More Consultant Physician in Area
Consultant Physician in Cities
Popular Post