Top 10 Consultant Physician In Kolkata - Get Online Consultation
Some of India's foremost consultant physician are based in Kolkata. They offer distinct treatment for a wide range of general health problems like cough, cold, fever, headache, blood pressure, stomach ache, cramps and much more. Columbia Asia Hospital and Belle Vue Clinic are leading medical facilities in Kolkata where these highly skilled consultant physician cater to the needs of patients. They incorporate state-of-the-art technology and work as a cohesive team to deliver unmatchable clinical care. To book an appointment with some of the leading consultant physician in Kolkata, Visit 365doctor or visit 365doctor. You can choose your practitioner on the basis of experience, consultation fees, skills & expertise and more.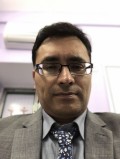 800 MBBS MRCP FRCP CCST(UK)
Diabetologist,Consultant Physician
19 Years Experience
Verified
LENUS SPECIALTY CLINIC KALIKAPUR
Mon,Tue,Thu
Fees
Appointment Guarantee

MBBS. MD. EULAR Rheumatology Clinical Module
Rheumatologist,Consultant Physician,Diabetologist,General Physician,Paediatric Rheumatologist,Rheumatologist
15 Years Experience
92%
Verified
Peerless Hospital & BK Roy reseacrh institute and 3 more address.
Mon,Tue,Web,Thu
(3:00 pm - 3:00 pm)
Fees
Appointment Guarantee

MBBS, MD, MRCP (U.K.), MRCP General Medicine
General Physician
88%
Advanced Medicare Research Institute, Hospital (AMRI), 97A, Southern Avenue, Salt Lake City, Kolkata, West Bengal - 700091 

MBBS, DNB
General Physician
Rupasree Tower -1, 304, New Town, Kolkata. 

Shree Vishudhanand Hospital & Research Institute, 35-37, Burtolla Street, Kolkata. 
Consultant physician Cover These Problems
Cold and Cough
Dengue
Diarrhea
Fever
Pneumonia
Typhoid
Show more
Find More Consultant physician
Consultant physician in Cities
Popular Post