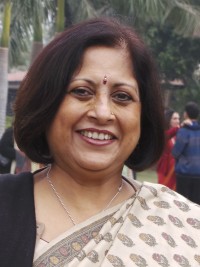 Dr. Ranjana Mithal
Eye/Ophthalmologist
Indraprastha Apollo Hospital,Sarita Vihar(Jasola Vihar),New Delhi Map
Ranjana Mithal is Top Eye/Ophthalmologist in South Delhi, Delhi. Ranjana Mithal practices at Indraprastha Apollo Hospital,Sarita Vihar(Jasola Vihar),New Delhi . You can Book Online Appointment, Consult with Ranjana Mithal on www.365doctor.in.
Find Contact no/phone number, Ask Question, Find & write Ranjana Mithal Reviews, Qualification, Ranjana Mithal fees on www.365doctor.in.
Dr Ranjana MithalDr Ranjana Mithal is an eminent Ophthalmologist, practicing in Delhi and the National Capital Region for more than 25 years. She practices comprehensive Ophthalmology with special interest in Diabetic Retinopathy, and provides complete medical and surgical care to all her patients. Dr Mithal studied medicine from the prestigious Ganesh Shankar Vidyarthi Memorial Medical School (GSVM), Kanpur, and further pursued Masters in Surgery from the same institute. Her fervor for knowledge, and zeal to excel made her upgrade her understanding of the subject, by participating in many related fellowships on latest advances in the field of Ophthalmology. She is also an active participant in many workshops and conferences relating to her field and tries not to miss any opportunity to learn the latest updates regarding her field. She has her expertise in LASIK, Glaucoma, Phaco-emulsification, Neuro- Ophthalmology, and also routinely performs procedures like; FFA, OCT, Retina lasers, Intra-vitreal Injections of Anti-VEGF and Iridotomies. Her surgical practice consists of Phaco-emulsification and Trabculectomy along with other routine/general surgeries, and also provides comprehensive eye care for the diabetics including Retina Lasers. Dr Mithal also takes keen interest in the development of new drugs and has participated in clinical trials for indication of Parkinsonism for clinical phase III of drug development. Presently, she is working as a Senior Ophthalmologist at Indraprastha Apollo Hospital, Delhi, and also at Eye Care Clinic, Vasant Kunj She is managing ophthalmological problems encountered in a multispecialty hospital including ocular trauma, and is also a part of the preventive health care check up program in the hospital. Both the locations, in which she is practicing, are very well accessible and are well connected by the common modes of transport.
Map
Find More Nearby Eye/Ophthalmologist
Eye/Ophthalmologist Covers
Cataract Surgery
Eye Conjunctivitis
Eye Irritation
Glaucoma Treatment
Lasik Surgery
Eye Surgery
Glaucoma Treatment
Find More Eye/Ophthalmologist in Area
Eye/Ophthalmologist in Cities
Popular Post