High Blood Pressure
Posted by 365Doctor on May 20th, 2016 | Comments
Overview
High Blood Pressure, or Hypertension, is a very common disease faced by one in every third person world-wide. If left untreated, hypertension may damage our arteries, and may further result in medical emergencies like; Heart failure, and Cardiac arrest.

What is High Blood Pressure? High Blood Pressure is a condition, wherein blood exerts huge amount of pressure on the walls of arteries. The condition has no signs and symptoms, but it increases the risk of developing a heart disease, kidney disease, and may even result in eye damage. Medically, a systolic pressure of 120 and diastolic pressure of 80 (written as 120/80 mmHg) is considered normal, and one between 120/80 to 139/89 is considered Pre Hypertension. A Blood pressure above 140/90 is considered high.
Symptoms
High Blood pressure usually has no symptoms, and is therefore known as a "Silent Killer". In many individuals, high blood pressure remains unnoticed for many years, and would finally result as a fatal medical emergency. But, in some people high blood pressure exhibits certain key symptoms like:
· Persistent Headache
· Dizziness
· Shortness of Breath
· Blurred Vision
· Nose bleeds
· Palpitations etc
Causes
· Primary Hypertension: This is seen in most of the population suffering from high blood pressure. There is no single identifiable cause for this type of hypertension, but the probable causes could be related to genes and environmental factors.
· Secondary hypertension: This type of high blood pressure is caused secondary to some underlying pathology or medical condition. Conditions like kidney disorders, narrowing of aorta, and thyroid disease etc gives rise to this type of hypertension.
· Isolated Systolic Hypertension: In this type, the systolic pressure is above 140, and the diastolic pressure is below 90 mmHg. This is commonly seen in the elderly, and results due to hardening of arteries.
· Isolated Diastolic Hypertension: In such type of high blood pressure, the diastolic pressure is raised above 90mmHg, but the systolic pressure is normal. This indicates that you have a high heart rate. The main causes for this type of high blood pressure are obesity, inadequate diet patterns and smoking.
· White Coat Hypertension: In such cases, blood pressure is seen to elevate on a doctor's visit or in a medical facility.
Treatments
Lifestyle modifications are the first step towards lowering and controlling the blood pressure. If this alone does not help, then medications are prescribed to restrict any damage to the heart. Following are the simple lifestyle changes, which could help control a high blood pressure:
· Reduce salt intake
· Increase physical activity
· Maintain a healthy weight
· De-stress regularly
· Limit alcohol intake
· Quit smoking
If one has started with medications for High Blood Pressure, then he or she should visit his physician every month to keep a check on his pressure. Once the goal of near normal pressure is reached, the patient, should continue with the advices of his physician, and should make it a habit of visiting him every 6 months to keep a track on his blood pressure.

Specialist to see: General Physician/ Cardiologist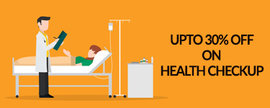 General Physician Covers
Show more
Related Post
Doctors in Cities